Mid-Byzantine period: Erection of churches atop ancient ruins

The Hills' neighbourhood is revived. Agios Demetrios Loumbardiaris is built upon the ruins of an ancient tower of the Compartment Wall (diateichisma). The little church of Agia Marina is founded following the bedrock cutting of an ancient cistern in whose inner wall frescoes of the 13th century A.D. are preserved. The desolate "Royal wall", mentioned in the Praktikon of Athens –an official document of the Byzantine state–, is a landmark for the land properties across the edges of the city during the turn of the 12th century Α.D.; a section of this wall is in close proximity with the Koile district (village of Koile) and with the church of Agia Marina.

Selected bibliography:
Thompson and Scranton 1943, 376–378; Makri, Tsakos and Vavylopoulou–Charitonidou 1987–1988; Bouras 2010, 60–61.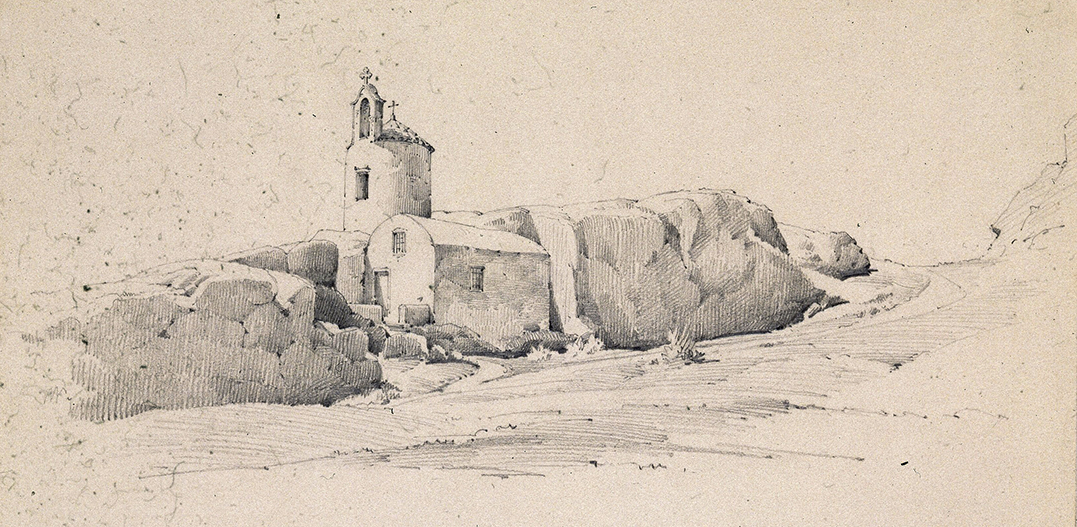 The little church of Agia Marina wedged into the rock of the Hill of the Nymphs before its subsequent reconstruction. Sketch from 1853.
(Source: Royal Danish Library – Danish National Art Library, Harald Conrad Position, Inv. No. 17700)